Captivating Peyote
Designs to Captivate the Mind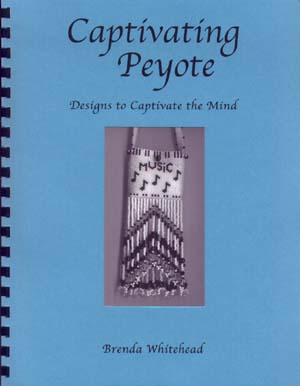 "Captivating Peyote" will captivate your attention! by Brenda Whitehead, 31 pages, soft cover, 1997 (Revised edition, 2002). This peyote stitch design book contains patterns for amulet bags and pendants, appliques and VESSELS using the 'Tri-bottom' technique!
Color pages in the center of the book show you actual beadwork. Detailed instructions for each design plus alternate uses and methods of construction are included.
The "Striped Vessel" introduces you to the 'Tri-bottom' technique and will challenge you to embellish it!
"Scallops" is an evening bag or vessel using the Tri-bottom technique, which includes three (yes 3) rows of fringes! 360 to be exact and top 'petals' that are folded down to form a 'crown' at the top! Adding the fringe is not for those with 'fringe-a-fobia'! The pattern may be made with no fringe as a self-supporting vessel.
Patterns include: "Nova", a burst of color imposed on a lacey background; "City Lights" is a Tri-bottom vessel or bag; "Bird Tracks"; "Cats"; "Gram's Flower Garden"; "Music Bag" (on the cover) and the "Waterfall" with it's flowing fringe will delight you!
"Kimono" is a pendant in the shape of a Kimono. The shape of the "Nova" applique will dare you to find something to put it on! And many more patterns!
These designs are for the beginning and advanced beader! Click here for photos!
&copy Brenda Whitehead 1997, 2002 *** http://www.bwhitehead.com