Fantasy Beadwork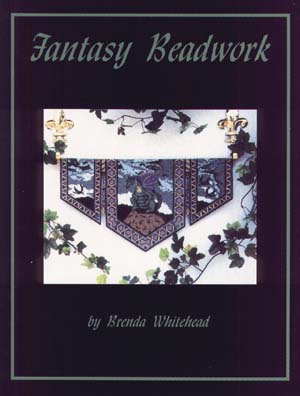 "Fantasy Beadwork" by Brenda Whitehead, 32 pages, soft cover, 1998. Let your imagination fill with the time of Merlin, Morgan le Fey and Dragons!These patterns will take you to the land of Legends!
There are full color photos of each design and some closeups. All graphs are full-sized and permission is given to make one working copy. Some of the designs are advanced, and beginners will find designs they can do, too!
"Merlin by the Lake", "Morgan le Fey", "In Flight" and "Hatchling" are a few of the purse patterns included in the book.
"The Guardian" (large Dragon tapestry - on the cover) is a triptych and the largest piece in the book. The "Charm Pendant" is for showcasing a special charm.
There are two Hatbands; Dragon Head Medallions; "Hands of Power" pendant/purse and more!
Recommendations for other uses of the patterns, color suggestions and finishing techniques are provided.
Click here for Delica color numbers for "The Guardian"!
Click here for corrections to "The Guardian" graph!
&copy Brenda Whitehead 1998-2003 *** http://www.bwhitehead.com