Heirloom Peyote
Patterns for Peyote Stitch Beadwork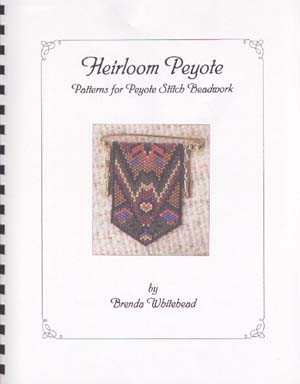 "Heirloom Peyote: Patterns for Peyote Stitch Beadwork" by Brenda Whitehead, 33 pages, soft cover, 1996. Contains 19 designs for amulet bags and more! Patterns for bracelets, earrings and pendants are included.
Detailed instructions and diagrams at the beginning of the book will teach the basic peyote stitch, flat and tubular, even count, uneven count, decreasing and also included are lots of hints and tips for everyone!
Patterns range from Victorian styles through whimsical!
You'll love the birdhouse! We take a peek at "Mr. & Mrs. B. Bluebird" taking a bath! "Florentine 3" is reminiscent of bargello needlepoint!
"Beaded Lace" looks like lace! This amulet bag pattern is graphed with a flap. "Garden Gate" is the path to a garden with an overhead trellis meant to be embellished with 3-D vines!
Recommendations for other uses of the patterns, color suggestions and finishing techniques are provided.
These designs are for the beginning and advanced beader! Click here for photos!
&copy Brenda Whitehead 1996 *** http://www.bwhitehead.com