LESSON 2
---
Tri-bottom Vessel Basics
*This pattern, project and instructions have been published in my books Captivating Peyote, Medieval Beadwork, Peyote Stitch 101 and in the Spring 1998 issue of Beadwork magazine. (See the "Books" link in the bottom menu for book information and photo links).
Introducing the Tri-bottom vessel or bag! Tri-bottom: an alternative to making a round bottom for baskets and vessels. It will stand on it's own and is open to all kinds of embellishment possibilities! Working three decreasing points and then joining them together forms the Tri-bottom. This technique is much easier than increasing for a round bottom and still provides you with a rounded finished product!
Work the basic vessel (or bag) in tubular peyote on a form such as rolled up and taped poster board, using tight tension. The use of Delica beads and size D Nymo works well. Work the decreasing points after the main section is done.
To sew the point seams that form the Tri-bottom: the thread will be coming out of one of the beads at the very tip of the point. Place two of the seams together (evenly) and alternating sides, weave into a bead on one side and then into a bead on the other side in a zig-zag motion, skipping every other bead until you reach the end, then turn around and weave in the opposite direction, into the alternate beads you didn't sew into on the first pass. You will be sewing into all of the beads in the two passes and ending up back where you can now sew up the next section. (You might want to use an already bent needle for this because if it isn't already bent -- it will be!) Proceed until all three seams are sewn together. Now you can begin the fun of embellishment!
The Striped Vessel pattern is a simple one and the bottom will form a pinwheel effect when it's sewn together. Three colors plus the background are used. Worked in tubular peyote, 96 beads are strung on to start. Please double check your bead count! Work the graph from the top down.
When working this pattern, you may find you don't have to refer to the graph quite so much once you get started. You should be able to see where you're going as you work since the stripes are straight diagonals and stay in the same sequence throughout the pattern.
Once you have made one Tri-bottom piece, the others will make sense and you may even want to design your own!
The Tri-bottom vessels may be made as short or tall as you wish. One of the other patterns in Captivating Peyote, "Scallops", I have made as an evening bag. When not in use it will sit on a small pedestal I found at a craft store. Any vessels or bags may be displayed this way. Some stands that should work are egg stands, pedestals, and some candle holders may be appropriate. There are also glass domes available in various sizes. Look around your house...you may already have the perfect thing!
***Have fun! Brenda Whitehead
NOTE: New for 2002 - Revised Edition of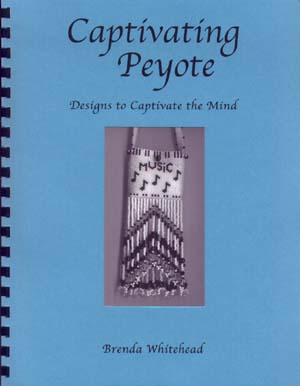 Captivating Peyote! Updated patterns and layouts, plus a few surprises! Available NOW!
© Brenda Whitehead 1995-2002 *** http://www.bwhitehead.com